(click on image for larger view)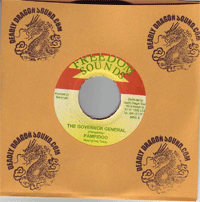 Deadly Dragon review:

Yess Massive! One more in the "Gold Bonded" series of Deadly Dragon repress exclusives! For years we loved this ROCKSTONE tune but hated the crappy quality of the represses soooo...we went right to the source and re-mastered right from the tapes! Now it soung BIG and BROAD!!! As a bonus, we have included another BIG Pampidoo on the B-Side...Yes...Its the "Talking Parrot"!