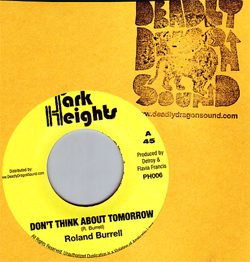 ROLAND BURRELL - DONT THINK ABOUT TOMORROW
Yesss the HUGE tune come again when Park Heights - Deadly Dragon Link Up presents ROLAND BURRELL's haunting "DON'T THINK ABOUT TOMORROW" on the same riddim as NUTHEAD's digital roots anthem, "Tenement Yard". This tune had only come out previously on an LP and this is the first time it has appeared on 7". BOOM!!!!!!!
****************************************
Yes indeed -- lend your voice to the campaign to Free Up the Gargamel with this FREE BUJU shirt in either Black or Green - MEdium thru XXl. All $$$ goes to the FREE BUJU Legal Defense Fund. SUPER limited quantity available.
***************************************
******************************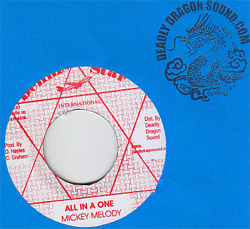 MIKEY MELODY - ALL IN ONE b/w PLYERS - BACK & BELLY RAT
DENNIS STAR / DEADLY DRAGON LINK UP round 3 in a PEENIE PEENIE STYLE! -- YEssssir - A double dose of Dennis Star's killer 1980s peenie peenie version! One side comes with Mikey Melody's TUFF digital roots track - ALL INA ONE; Next side is PLIERS' wicked & deadly attack on all back biter dem! Limited press of 500 pieces. Deadly Dragon Sound exclusive!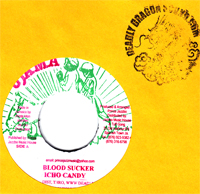 BOOM SHOT! This one going out to all fans of SERIOUS digital roots music. Icho Candy has always been one of Jamaica's most unique singers -- with a string of serious tunes to his credit. From the first time we heard this one -- originally released in 1987 on the Ujama label -- we were hooked. Serious bass, serious lyrics and of course Icho's vocals stirring the whole thing into pure transcendence. We had to get Prince Jazzbo to hunt through his tapes to find this one -- one of the rarest and most killer of the Digital Roots tunes Jazzbo released in the 80s. So now we have it and so shall alla you! This one is limited to 500 pieces and is ONLY available at www.deadlydragonsound.com NUFF RESPECT!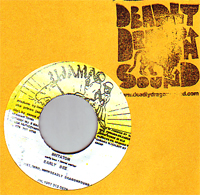 UJAMA/DEADLY DRAGON SOUND
*******************************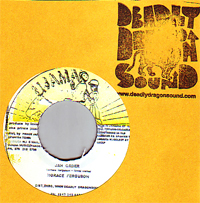 UJAMA/DEADLY DRAGON SOUND
++++++++++++++++
<***********************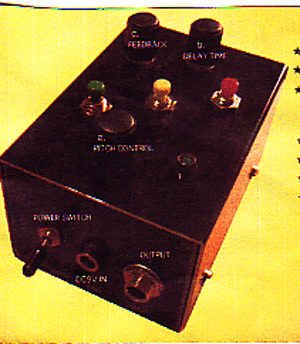 This is the new generation Sound FX Box -- hand made in Japan for Deadly Dragon Sound. This one expands upon our base model with the added feature of built in delay, volume and a pitch knob. As with our other model -- this is a TONAL MODULATOR which means that this is an analog sound creator, not a sampler. It is the perfect tool to give your dance an extra flavor of barely contained chaotic FUN! Comes with 9 volt power adaptor to give you POWAH!
Click here to hear a sample of the NEXT GENERATION SOUND FX BOX