(click on image for larger view)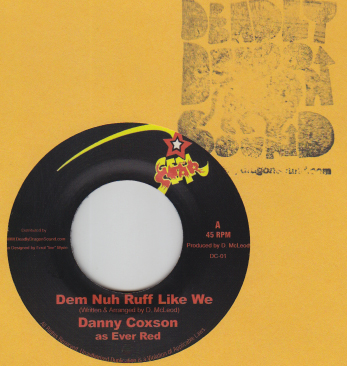 Deadly Dragon review:

Danny Coxson as Ever Red - Dem Nuh Ruff Like We 7" Reissue on Gem Star / Deadly Dragon Sound. Back in 1988, Danny Coxson a.k.a. recorded this legendary tune at a London studio. He pressed up a few copies with Brixton's Super Tone records and upon his return to Jamaica, the tune faded into obscurity. But as the decades passed it became recognized as a classic 1980s Digital Roots. In 2010 Danny Coxson contacted Deadly Dragon Sound and they worked out a partnership to reissue some of his classic tunes as well as some unreleased. These tunes were all taken from Danny's original master tapes and pressed in NYC in a limited edition of 500 pieces.