(click on image for larger view)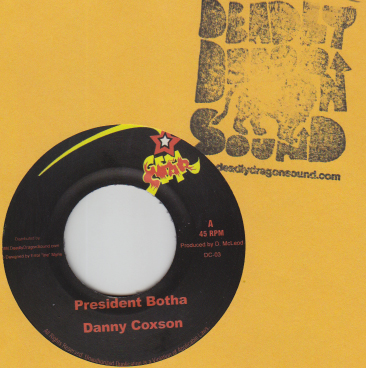 Deadly Dragon review:

Danny Coxson - President Botha 7" reissue. Back in 1988 Danny Coxson recorded this tune in a London studio. He returned to NYC and released it on his own Gem Star label. Upon his return to Jamaica, the tune faded into obscurity. But as the decades passed it became recognized as a classic 1980s Digital Roots tune. In 2010 Danny Coxson contacted Deadly Dragon Sound and they worked out a partnership to reissue some of his classic tunes as well as some unreleased. These tunes were all taken from Danny's original master tapes and pressed in NYC in a limited edition of 500 pieces.