(click on image for larger view)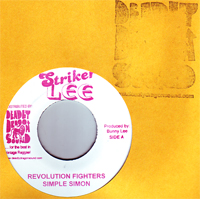 Deadly Dragon review:

Striker Lee / Deadly Dragon reissue come back again!!! Yesss indeed!!! Simple Simon has long been one of our true, favorite artists. While sometimes dismissed as a Eek A Mouse imitator, Simple Simon brought the bing diddy bong style of Mouse and added his own narrative and lyrical skill creating some truly unique tunes. For these reissues we grabbed the great tune REVOLUTION FIGHTERS which rides a RUFF version of the TAKE FIVE riddim made famous by Al Campbell's BAD BOY and Little John's Mix up. On this tune Simple Simon twists Burning Spear's SLAVERY DAY lyrics into a burning cry for justice that stays right on the edge of true RAGE! On the B Side is a sweet dubbed out version of the riddim for all you plate cutters and version heads out there! As always these reissues were taken from the original tapes and limited to a 500 piece pressing and ONLY available at Deadly Dragon Sound!!!