(click on image for larger view)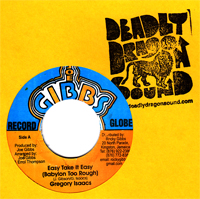 Deadly Dragon review:

Gregory Isaacs - "Babylon Too Rough" -- Initially released in 1975 on the Belmont label, this roots classic takes Dennis Brown's "Easy Take it Easy" and flips it in pure dread style to "Easy Natty Easy". This tune showcases Gregory Isaacs at the very height of his skills combining his unique vocal sound with the ability to extract every ounce of Drad menace from his lyrics. Brutal tune that we have long wanted to see pon reissue...and now we have it to share with alla you! Nuff Respect to the COOL RULER!