(click on image for larger view)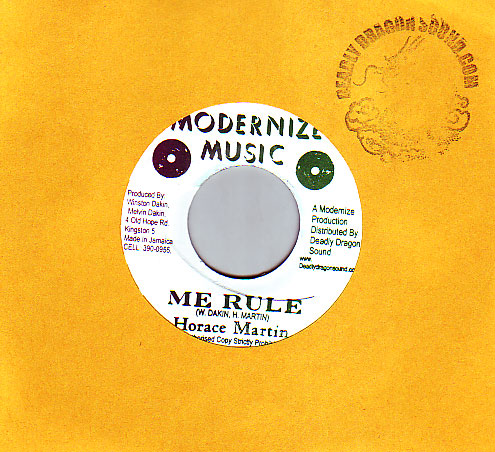 Deadly Dragon review:

Deadly Dragon Sound is proud to announce their latest re-issue: Horace Martin's monster tune ME RULE on the Modernize Music label. Originally released in 1985, ME RULE was produced by the man PRINCE HUNTLEY and the DUB was cut by Prince Tubby. ME RULE is a tune that lies at the crossroads of the major digital sounds of 1986 and the earlier roots inflected rub a dub of Channel One. Drawing power from both these genres, ME RULE has grown into an underground classic appealing to both the ROOTS STEPPERS crowd and the Digital heads. This reissue was taken directly from Prince Huntley's master tapes and contains the dub that was mixed by King Tubby himself. We here at Deadly Dragon thank Prince Huntley for allowing us the opportunity to share his wonderful music with the world.