(click on image for larger view)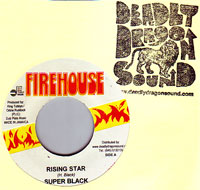 Deadly Dragon review:

This one comes straight from the vault of KING TUBBY! Last year we were contacted by the legendary King Tubby's daughter asking us if we would be interested in helping her to do a series of reissues. Apparently, in all these years, the family has not seen much of the money from all the various reissues -- so they wanted to partner with us to do the first OFFICIAL 7" FIREHOUSE reissue. She did not have any tape -- as much of her father's material was stolen after his death -- but she did have a number of the original Stampers that had not been used since 1987. We sorted through those stampers and selected some of the tunes that we thought were the wickedest. This Super Black tune has always been one of our favorite FIREHOUSE tracks -- killer vocals and a riddim that is just furious and indicitive of the genius of the KING TUBBY DIGITAL period. So here it is the FIRST EVER OFFICIAL FIREHOUSE 7" reissue! A big bad BOOM tune! Thanks to Mr. Junior from the Firehouse crew for supplying a label scan for Ms. Arlene Ruddick.