(click on image for larger view)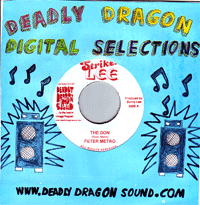 Deadly Dragon review:

ROUND 3 KNOCK OUT!!!! This DECEMBER Deadly Dragon rounds out its wicked set of Digikal bad bwoys! Once again we have worked directly with producer Bunny "Striker" Lee and re-mastered the following classics on the "Computer" a.k.a. "Sleng Teng" riddim: * PETER METRO - THE DON b/w THE DON DUB * DAVE BARKER - RUN FOR COVER b/w RUN FOR COVER DUB & The INVINCIBLE BEENIE MAN (at 10 years old) SOUND BOY CUFFEN b/ FOLLOW ME. These exclusive pressings are ONLY availble from Deadly Dragon Sound. Limited edition press of 500pcs.