(click on image for larger view)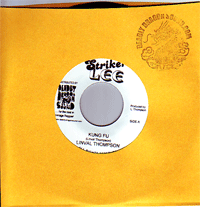 Deadly Dragon review:

BOOM-SHOT ALERT!!!!! This is the version of Linval Thompson's "KUNG FU" that you have NOT heard. Quite different from the Lee Perry tune -- in fact, this is one of the Wickedest, hardest hitting Linval Thompson tunes that i know. Do NOT skip this one or I'll come find you and make you listen to Chuck Magione for three days straight. THIS IS AN EXCLUSIVE DEADLY DRAGON REPRESS taken straight from the master tapes of BUNNY LEE -- ONLY WE GOT IT! This tune was originally released on the World Champ label in 1974 and has NEVER been re-pressed.